by Rianna Jade Parker (London, Tate Publishing, 2021).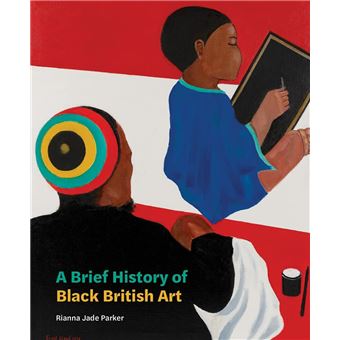 Review by Frédéric Lefrançois
Université des Antilles
This book showcases the creative endeavors of over sixty Black British artists from the 1960s until today, drawing inspiration from the Caribbean Artists Movement based in London. Through their artwork, these practitioners offer insights into the political and cultural climate, providing a unique perspective on the Black British experience. Focusing on contemporary ideas about race, nationhood, citizenship, gender, class, sexuality, and aesthetics in Britain, this concise introduction explores central themes in Black British Art.
Rianna Jade Parker, a writer, critic, curator, and researcher is British-born to Jamaican parents. A living example of diasporic citizenship, the author of A Brief History of Black British Art is currently based in South London but also lives in Kingston for half of the year with frequent trips to NYC. She is a key figure behind this publication. Her areas of expertise in historical research and archiving encompass Black feminist thought, visual cultures, Black modernity, and Caribbean studies. She has had the opportunity to present her work at esteemed venues such as the South London Gallery, Tate Britain, Tate Modern, the Royal College of Art, and the ICA London. Along with other artists and collaborators, she founded Thick/er Black Lines, an interdisciplinary art collective whose work was exhibited in the significant showcase "Get Up, Stand Up Now: Generations of Black Creative Pioneers" at Somerset House, London.  
Parker's written works have been featured in prominent publications including ARTnews,  Frieze, Artforum, Aperture, Art in America, Artsy, and BOMB. Her critiques have covered notable artists such as Frank Bowling, Simone Leigh, Kara Walker, and Steve McQueen. Additionally, she has authored catalogue essays for various institutions and publishers such as Phaidon Press, Stephen Friedman Gallery, Tate Liverpool, Thames and Hudson, Camden Art Centre, Charleston House, and the Hayward Gallery. As a Contributing Editor for Frieze magazine and a founding member of the interdisciplinary art collective Thick/er Black Lines, Parker actively engages with the art world. Her highly first book, titled A Brief History of Black British Art, published by Tate Publishing in 2021, is a captivating exploration of the rich artistic contributions made by Black artists in Britain throughout history. Thanks to this book, the reader will delve into the experiences, struggles, and triumphs of Black artists, shedding light on their invaluable contributions to the cultural landscape of the United Kingdom.
One of the book's notable strengths is its comprehensive approach. It navigates through various artistic movements – painting, photography, and the living arts, to name but a few – from the early pioneers to the contemporary artists who continue to shape the narrative of Black British art. Parker skillfully weaves together historical context, personal anecdotes, and critical analysis to provide a nuanced understanding of the challenges faced by Black artists and the artistic expressions that emerged as a result. The book not only celebrates the achievements of well-known figures – like Grenada-born Denzil Forrester, Bermudan Bill Ming, or Sonia Boyce born in London to Bajan and Guyanese parents – who captured the spirit of a "burgeoning Windrush generation and their children that were fashioning the styles en sensibilities of a new Black British culture" and laid the foundations of a vibrant "cultural archeology" (66).
It also unveils lesser-known artists who have played a significant role in shaping Black British art. By shining a light on their experiences and perspectives, the author successfully broadens our understanding of the diverse range of artistic practices within the Black British community. Furthermore, A Brief History of Black British Art tackles important themes such as identity, race, representation, and cultural heritage. The author's exploration of these topics is thought-provoking and thoughtfully contextualized within the broader socio-political climate of each era. Through this lens, readers gain a deeper appreciation for the complexities and nuances inherent in Black British art and its relationship to broader social issues.
The book is impeccably researched, with an extensive bibliography that allows readers to further explore specific artists or periods in more depth. It is accessible to both scholars and general readers, striking a balance between academic rigor and engaging storytelling. The inclusion of high-quality illustrations and photographs of artworks enhances the reading experience, providing visual examples that complement the text and bring the art to life. If there is one aspect that could be improved upon, it would be a more in-depth exploration of contemporary Black British art movements and emerging artists. While the book provides a solid foundation, an expanded discussion of recent developments could have added further depth and relevance to the narrative.
In conclusion,  A Brief History of Black British Art is an insightful and enlightening book that fills a significant gap in art historical literature. Its meticulous research, engaging storytelling, and exploration of crucial themes make it an essential read for anyone interested in the contributions of Black artists to the British art scene. This book serves as both a celebration of their achievements and a call to continue supporting and amplifying the voices of Black artists in the ongoing pursuit of inclusivity and cultural understanding.